Released in 2006, GoToWebinar is an online meeting, desktop sharing, and video conferencing software package. GoToWebinar broadcasts the desktop view of  the host's computer to the viewing participants. Participants can interact with the host through a chat function, or even through live polls and surveys. This is quite a formal platform which is better suited to business meetings than for educational purposes.

Age Ratings
Apple's App Store: 4+
Google's Play Store: PEGI 3
Terms and Conditions: Not specified
Broadcast your desktop view (PowerPoints, videos, etc) to all participants

Chat function – Participants can use this to ask questions or communicate with the host

Multiple presenters/hosts – A colleague can monitor and respond to questions whilst you focus on the broadcast

Polls – Receive feedback from participants using polls

Attachments – Attach PDFs, documents or videos for the participants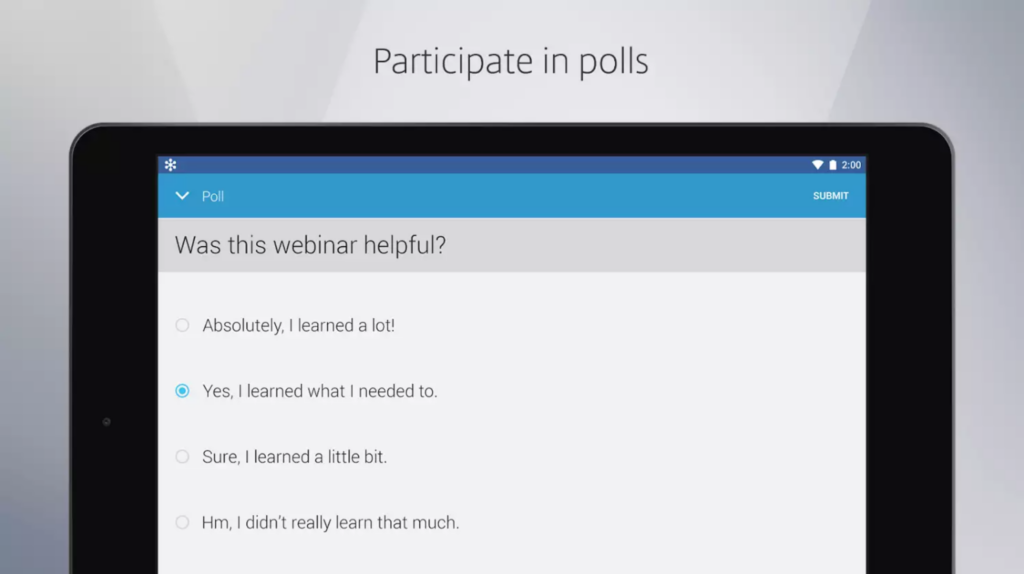 Does GoToWebinar have specific provision for educational settings?
GoTo Webinar does not have a specific platform for education however, it does provide an education service for teachers, trainers and learners. To find out more about this service, visit here.
What should you be aware of?
All GoToWebinar recordings will be uploaded and saved on their server. If this recording contains any confidential information, then it should be removed from their server and saved somewhere secure in line with your organisation's policy.

The platform only has one way communication. The host(s) can see the participants' chat messages, but the participants can not see each other's messages.